Heirloom stones
Is your stone an heirloom? Merriam-Webster definition of an heirloom: a valuable object that is owned by a family for many years and passed from one generation to another.
Bring in your old jewelry or a loose stone you inherited, and we will work with you to design and craft something new using the same diamonds and gemstones.
Rules for accepting an heirloom stone - click here to read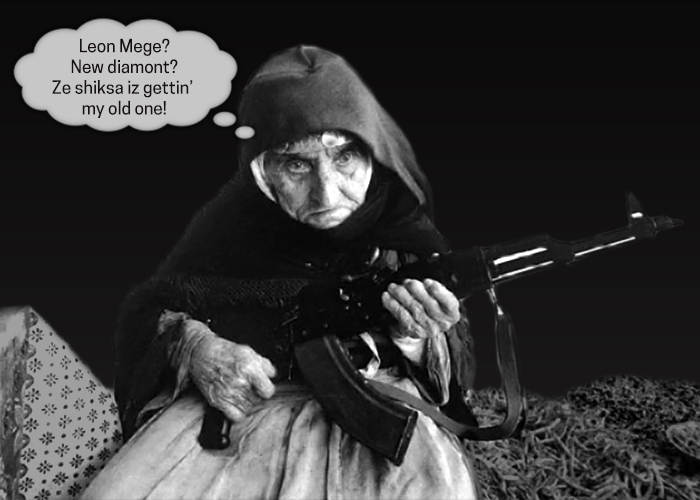 To create a beautiful piece of jewelry, one has to start with the most beautiful stone. Our diamonds and gemstones are hand selected by Leon Mege and our staff gemologists for their outstanding qualities and values, as well as their intricate beauty.
A keystone is the most important element of a bespoke jewelry piece and must be carefully selected in conjunction with its designing.
To help find, select and acquire a perfect stone, we employ a proprietary 73-point evaluating system for diamonds and a 104-point system for colored stones. We cultivate close relationships with the best diamond companies in the world.
Leon Mege diamond cutters cut the most alluring and vaunted stones of all shapes from artisan True Antique cushions to Super Ideal Ultimate round brilliant cut. We travel to remote locations to get the rarest colored stones the moment they are unearthed. We negotiate the best prices and pass the savings along to our clients.
Leon Mege Diamond Ambassador service is your best source of diamonds and gemstones
There are few additional options you can explore:
We can trade-in your stone or buy it from you, regardless of whether it was purchased from us or elsewhere.
If you are in the process of purchasing a stone or just closed a deal without realizing that we can source any stone on the market at a lower price, you can take advantage of the vendor's return policy and let us supply the same or better stone.
We do recognize that sometimes you own a stone that you'd like to be set in a Leon Mege mounting.
Whether it's an heirloom gem passed down for generations or a sentimental grade diamond you got from your sweetheart when you were still in college, we will gladly accommodate your wish.
With all that said, there are some ground rules:
The stone has to come from a reputable source approved by Leon Megé
The stone has been in your possession for more than 30 days
You have never contacted Leon Mege prior to purchasing the stone
Leon Mege exclusive designs such as "Cosmo", "MonCheri", "ColdFusion", "Lotus" are only available with stones purchased directly from Leon Mege
Out of respect for our colleagues, we will decline a consignment from customers who are already negotiating the job with another jeweler. Our work is reserved exclusively for those who are true fans of Leon Mege artistry.
Glass/plastic filled, coated or structurally unstable gemstones are not acceptable.
Exclusive Cushions and Gemstone Search.