Positive or negative - does it really matter?
You are not getting a midnight slice of pizza or choosing a falafel stand. Nevertheless - here are some reviews that the Geschäftsführers of Yelp deemed too offensive to publish.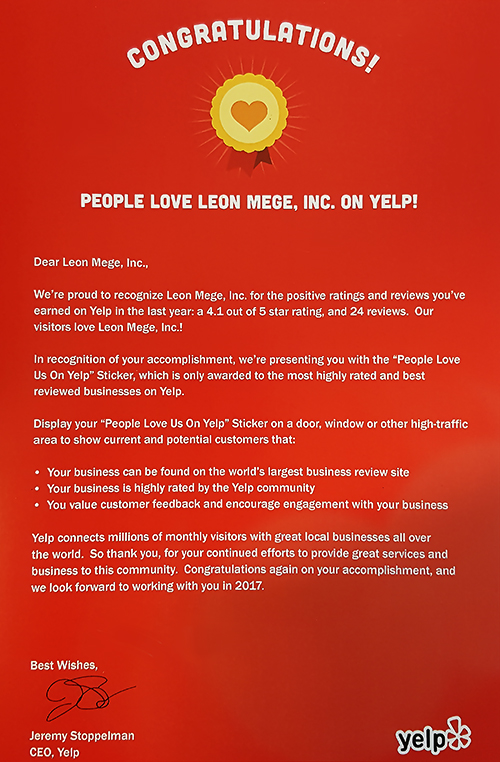 Jeanna L. - Seattle, Washington - Five Stars
"We are recently engaged and I received my dream ring made by Leon Megé! My fiancé and I live in Seattle so the entire process was done through email communication. We chose LM despite never having seen their work in person solely by all the rave reviews and good reputation on various online forums. They made it really easy for my fiancé to order the ring and select the diamond sight unseen. It took 4 weeks to be made and was delivered overnight just in time!
My ring is stunning! Of course I am biased, but I really do think it is the most beautiful and sparkliest ring I've ever seen! I always wanted a 6 prong round solitaire with a thin micropavé shank. I don't think I could have received a more perfect version of exactly that. The prongs are so delicate and they pretty much disappear when viewed from less than an arms length. The diamond really gets to shine and looks like it's floating! Even the tiny micropavé diamonds sparkle nonstop and it's truly beautiful work. I can't believe an actual person set everything, it's so precise! (I've added a couple pictures of my ring.)
The level of craftsmanship and beauty exceeds anything I've seen in the luxury jewelry chains we visited when we were trying on rings. And all at a very reasonable price! LM will definitely be our jeweler for any and all future occasions! We couldn't be happier with everything! Thank you so much!!!"
Cristina D. - Gaithersburg, Maryland- Five Stars
"Leon Mege I hope you read your Yelp reviews because the first thing I want to say is thank you! I absolutely LOVE my engagement ring and I cannot tell you how many compliments I receive about it!
I discovered Leon Mege after looking at wedding photos online and being moved by an engagement ring I saw which I learned was made by Leon Mege. From there I went to his website, read reviews about his work and fell in love with the cosmo setting so I mentioned this to my now fiancé Deric. Deric ended up calling the store and personally spoke to Leon Mege. My fiancé lives in Virginia so unfortunately we did not have the luxury of being able to visit the shop in person. Leon really worked with us and sent many pictures and videos of stones along with GIA reports until we narrowed it down to two stones that would work best in the setting. From there Deric made the final selection, ordered the ring and surprised me with it a few weeks later. A few things I learned along the way:
- Initially I was almost embarrassed to mention a custom made ring from NYC thinking it would be much more expensive than larger retailers in our area. Leon Mege's settings are truly a work of art and worth the little extra they cost as as his pave settings are the prettiest I have ever seen. On the flip side I think his diamond stone pricing is more competitive than most and he truly scrutinizes the dimensions of the stone, origin of the stone, etc to determine if it is appropriate for the desired setting. Leon really went above and beyond helping us to find stones meeting our criteria.
- Leon is very honest. I read some reviews stating they found him to be arrogant or rude. I only spoke to Leon once and Deric spoke to him many times. He is the expert of what he does, not us, and both Deric and I really appreciated that he was direct and straight forward.
Again, I could not be any happier with my ring. This is such a happy time for so many reasons and the ring makes me smile every time I look at it. I cannot wait to work with Leon Mege again on wedding bands in the months ahead."
Leigh K. - Oakland Gardens, New York - Five Stars
"As a young man thinking about proposing to his girlfriend, I had no idea where to start. So, as I do with all pricey purchases, I did a lot of research on the web. I knew I didn't want to pay a ridiculous amount of money for the name value of a brand (ie. Cartier, Harry Winston, Tiffany) so I was pretty set on purchasing from online retailers that give you the most "bang for your buck". However, I guess deep down I wanted something more for my (now) fiance.
Thank God I stumbled upon Leon Mege. Reading through many reviews and blogs where people share their knowledge and thoughts on engagement rings, a few names kept popping up; one of them being Leon Mege. After going to his site and looking at the designs I already knew that I wanted the ring to be made by him. However judging from the designs and his reputation, I feared that the cost would be way over my budget for the ring my fiance wanted.
Still I e-mailed an inquiry and Leon responded right away. I was honest with him about the style my fiance wanted and what my budget was and he was completely accommodating and understanding. I scheduled an appt to go see him in person and see the diamond he suggested and I knew I made the right choice. I know some people like to buy their diamonds elsewhere and just have it set by a reputable jeweler but I decided to purchase the diamond from him as well. I guess I had an certain level of trust for his recommendations from seeing the quality of his work both online and in person. The diamond (antique cushion / old mine brilliant) was amazing and I had actually never heard of this cut before he introduced it to me.
Now the last issue I had was I needed the ring to be made in a hurry. I had no idea how long it would take me to do my research and I completely did not account for the fact that jewelers like Leon hand-craft their rings and require some time to complete them. Still, Leon was completely accommodating and even gave me a couple days to truly decide and pay the deposit and went out of his way to expedite the process for me to complete the ring by the date I requested.
The ring is absolutely amazing and my fiance gets so many comments and compliments on it wherever she goes.
In conclusion, I would highly recommend Leon Mege to everyone. I think his prices are actually a steal for the exquisite pieces he creates and besides the superior quality of his products he is willing to work with you on every aspect of the ring and purchase. I am greatly appreciative of his services and can't wait to work with him again."
Ursula J. - Cedar Park, Texas - Five Stars
"DH and I did a "just because" upgrade after 13 yrs and the True Antique cushion we bought from Leon (set in an elegant classic Princesa solitaire) is absolutely totally the most beautiful ring we've ever seen. The claw prongs are so dainty but strong - allowing more diamond to show.
Leon worked with our timeframe for its completion and was so patient with our questions. Loved working with him!"
Lisa P. - La Cañada Flintridge, California - Five Stars
"My husband and I were searching for an upgrade for my original engagement ring. We spent a lot of time thinking about this purchase. We have been married for 34 years and wanted this to be just right. We both fell in love with a classic 5 stone step cut ring on Leon's beautiful website. I called Leon on the phone and was so star struck when he answered himself that I almost couldn't speak! He was very kind and answered all of my questions.
He proposed a few different stones for my setting, and we fell in love with an antique emerald cut diamond of unusual proportions and beauty. I must also add that he proposed stones that were within our stated budget and we really appreciated that. My husband is very analytical and he required a lot of information about the diamond in order to feel comfortable purchasing it long distance. Leon sent high resolution photos and lots of information that eventually made my husband feel confident. Leon was most patient!
Leon's team was professional and everything was finished according to schedule. When the ring arrived it exceeded our expectations. We are delighted! The proportions, the delicate double claw prongs, and the workmanship are all just lovely. It is a work of perfection sitting on my finger! We anticipate loving this ring for the rest of our lives together."
"My husband and I both fell in love with one of Leon's beautiful designs when we were researching for my anniversary (34!) engagement ring upgrade. I had done so much research that I was almost speechless when I called and Leon picked up the phone himself because I was so star struck! Leon was kind and gracious and helped us pick out a beautiful antique emerald cut stone of unusual proportions and beauty.
My husband had so many questions about the diamond -- he is very analytical -- and Leon was unfailingly patient and sent high resolution photos and information to help us feel comfortable with our long distance decision. Leon's team was courteous and helpful and when the ring arrived it was everything we could have hoped for and more.
The workmanship and proportions of this ring are just perfect and I can imagine myself wearing this with great pleasure for the rest of our lives together. This was a wonderful experience from A to Z!"
Fleur C.- New York City, New York - Five Stars
"I can't even imagine getting the value for money, attention to detail and such an amazing result anywhere else other then Leon. The pieces I have from him and are absolute perfection and I would not even consider going to anyone but him for all and any pieces I want done in the future.
I know in some certain diamond forums Leon has a reputation for being opinionated (but nobody ever argues with his work) but really my experiences couldn't be further from that. He is always kind and helpful to us and I appreciate his honesty and advice of how to get the result we are looking for as really he has done this for a long time so in my mind his helpful approach is very much appreciated.
We could easily have chosen to go into one of the big names all along fifth and got something that would no doubt have been nice enough but nothing truly exceptional, I am not sure I can go back to mass, machine produced craftsmanship while at Leon you get something handmade, hand designed and truly outstanding quality. Do your research as obviously it is a fairly big life purchase and you will find many more rave reviews like this one..
Again our experiences have always been excellent and professional and find Leon to be a really kind person who goes above and beyond and is obviously very committed to his craft. The best there is."
Anonymous - Jacksonville, Florida - Five Stars
"After searching in our area and failing to find anyone good who could make our ring, we decided to go to New York and see about getting our ring made with Leon Mege. Like many others, we had heard that Leon was among the best in the business for expertly crafted handmade rings. We were nervous and didn't know what to expect, but in the end we are so happy with our choice because the quality and craftsmanship is the best. What people have been saying is true, no one puts as much attention to fine detail as Leon Mege. He is a real artist who hand forges his rings the traditional way, a technique that makes them stronger, more durable and finer so that they are true heirloom pieces.
When you consider the level of quality, which I think is on par with Harry Winston and makes Tiffany's look like amateurs, you're getting way more than what you pay for. When I searched before in other local, respected jewelry stores for a ring, their mass produced, cast settings were surprisingly not hugely less expensive than Leon Mege's work yet the cast settings' quality was hugely lacking. I think some people don't know the sea of a difference in quality, having only seen mass produced stock settings, but after seeing a handforged Leon Mege ring in person there's no going back. They look even better in real life than they do in pictures! My ring turned out more beautiful than I could have hoped and it is just exquisite."
Alex C. - Manhattan, New York - Five Stars
"I highly recommend Leon Mege to anyone shopping for an engagement ring. When my fiancé and I were looking for a jeweler to make my engagement ring, we immediately thought of Leon Mege because they had recently made a beautiful ring for a close friend and her fiancé. The first time I called I was clueless - I had no idea what I wanted or how the process worked. Leon spoke with me and walked me through all of the steps (explaining that step (1) was shopping around to figure out the basics of what I wanted, step (2) was working with their in-house diamond guru Perry to pick a stone and step (3) was working with Leon to design the ring.
Once we had done enough research to know what type of stone and approximately what size range we wanted, we reached out Perry who was able (on very short notice) to bring in a variety of different diamonds for us to view within the parameters we had established. Perry was very knowledgeable about the diamonds. He was also very accommodating and did not pressure us at all.
After we viewed the initial batch of stones (and found one that we LOVED), we took some time to do additional research with a few other jewelers. Not only did Perry have a better selection of diamonds (I was looking for a rectangular cushion cut within specific proportions which were apparently pretty rate) but he also had prices that were very fair.
Once we choose the stone, we met with Leon. We emphasized that consistent with his style, we were looking for an elegant, understated look. The diamond we ended up choosing was beautiful and rather large so we wanted to emphasize the beauty of the diamond and only use a very delicate halo as a frame (as opposed to having larger stones to make the diamond appear bigger). Leon said that he completely understood our vision and that he would take care of the details to make it a reality.
I was a bit nervous waiting for the ring as it is VERY difficult to tell what the ring will look like once it was complete. I was speechless when I finally saw the ring sitting in the box. The ring that Leon and his team designed was more beautiful than anything that I had even imagined and matched 100% the look that I was going for. It honestly was (and is) unlike any ring I had seen before and, in my mind, more beautiful and elegant than the Harry Winston rings I had tried on when I was originally shopping for the ring. I cannot recommend Leon, Perry and his team enough."
Scott B. - Winnipeg, Canada - Five Stars
"My fiance had heard about Leon Mege through extensive online searches and being led to Leon Mege's site. When we first spoke about getting engaged - she told me that her DREAM RING was from Leon Mege and was pretty specific about what she wanted. We live in Canada, so I was a little skeptical about buying something I had never seen in person - but the professionalism, expertise, and trustworthiness of the Leon Mege Team eased my worries. The ring we selected was a True Antique cushion cut and double prongs and a very delicate pave band. It it stunningly beautiful. Everyone comments that it is the most beautiful ring they have every seen - and very unique and flattering. At first I was surprised we were able to speak to Leon personally - and how helpful he was along the way. Leon's support team is also amazing and I was thoroughly impressed. I am now ordering my Fiance's wedding band from Leon Mege as well. I just wanted to say thank you Leon for making my Fiance's dreams come true and we are truly happy with the entire experience."
April B. - Cocoa Beach, Florida - Five Stars
"I just wanted to reach out and thank your team at Leon Mege for creating such wonderful peices. I have started my path towards Gemology taking the first diamond course through GIA and I am so taken back by your inspired and creatively beautiful pieces that resonate true art. I really love how every piece is perfect in its own unique way and I will aspire to achieve this kind of greatness in my life. Thank you for being so truly one of a kind when it comes to creating jewelry. I used to live in NYC and I would walk up from 41st and Lexington, (Allstate Building) and I would go into every shop I could and just look at how people sell the jewelry and how they made it and I always thought everything looks the same. When I finally came across Leon Mege (online) I fell in love. I finally found an artist who understands how it all works, he gets it. In short I just wanted to simply thank you for what you do on the daily and let you know that you inspire everyday! If I ever have the pleasure of getting engaged he WILL be purchasing from you."
Danny C. - Manhattan, New York - Five Stars
"Purchased an engagement ring for my soon to be wife here. LEON really helped me out in depth, helping me customize to exactly how I wanted it. She loves it, and has gotten so many compliments. I will be back here soon to purchase for her birthday.
THANKS SO MUCH!"
Megan A. - Dallas, Texas - Five Stars
"My fiance went to Leon Mege to have my engagement ring made last year. Recently, I caught the ring on a desk edge and it bent it pretty significantly. I called Leon Mege to see what I should do, and they scheduled an appointment for me to bring the ring in on the only day that I could make it. Within a few hours, the ring was back to its original shape and looking as beautiful as new."